===================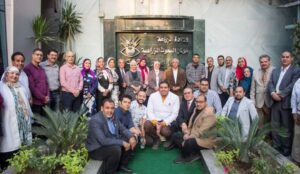 ===========
In the framework of the directives of His Excellency Mr. El-Sayed El-Qusayr, Minister of Agriculture and Land Reclamation, and the efforts of the Ministry of Agriculture and the Agricultural Research Center to support Egyptian exports, as well as protect the Egyptian consumer through the laboratory's participation in the food control system by analyzing pollutants, and since the Central Laboratory for the Analysis of Pesticide Residues and Heavy Metals in Food (Q-CAP ) One of these bodies, which is considered to be of great international and global standing, as it is considered one of the largest laboratories in the world in its field, according to the European Union's classification of it within the first distinguished category, since 2008 until now. It is also the first laboratory in the Middle East to provide these services in an integrated manner .
Prof. Dr./ Mohamed Soliman, head of the Agricultural Research Center, stated that the central laboratory for the analysis of pesticide residues and heavy metals in food (Q-CAP) passed the renewal of the international accreditation of ISO (17025/2017) from the Finnish Accreditation Authority FINAS for the twenty-seventh year in a row using Live Meeting, and it was The laboratory and the new methods of analysis were approved by the experts of FINAS from Finland via the internet platform, where they examined and audited the quality system, methods of analysis and the efficiency of the laboratory staff. for approval.
In the same context, Prof. Dr. Hind Abdallah said that this is the third time that Live Meeting is used over the Internet to accredit the lab under the harsh conditions of Corona, which the lab has passed efficiently, which coincides with the lab's training center obtaining ISO in the two specifications 9001- 21001 The laboratory has also obtained international accreditation in ISO (17025/2017) from the National Accreditation Authority (EGAC), and the laboratory has obtained accreditation in ISO/IEC 17043: 2010 for providers of proficiency tests in the field of some analyzes of microbiological chemical pollutants in food and water Surface swabs from the National Accreditation Council (EGAC).
In the same context, Abd Allah indicated that the laboratory includes many different departments, all of which are included in the audit and examination system for accreditation bodies, the most important of which are pesticide residues, heavy elements, microbiology, mycotoxins, food additives and quality, persistent organic pollutants, veterinary drugs, marketing and training, customer service. , Reception and Milling, Financial and Administrative Affairs, Information Technology.
It should be noted that the factory contributes to achieving the production system for the purpose of exporting and promoting this production in foreign markets, to increase the market share of Egyptian agricultural exports in those markets, and to achieve development goals through the analytical, training and advisory services it performs, contracts, cooperation protocols, workshops and participation in conferences for workers In the field of production, export and food processing, which supports the national economy.