About the Laboratory
The Central Laboratory for analysis of pesticide residues and heavy metals in food was established under the Ministerial Decree No. 680/1995 in frame of collaboration between Finnish government and Egyptian governments represented by the Ministry of Agriculture. The laboratory offers fully comprehensive and high quality testing services for the detection of pesticide residues, food and environment pollutants.
QCAP is the official laboratory of the Egyptian Ministry of Agriculture having the authority to monitor pollutants in food exports and imports and to issue official analysis certificates.
QCAP is the only laboratory approved for analysis of food safety in Egypt. It has been awarded the international accreditation certificate according to ISO 17025:2017 standards by Finnish Accreditation Service (FINAS) in Europe, knowing that all analysis certificates issued by FINAS are accepted all over the world.
QCAP is the first laboratory to have been awarded the international accreditation certificate in the field of analysis of pesticide residues and pollutants in Egypt and the Arab world since 1996.
The main laboratory objectives reside in running applied scientific researches, particularly those related to the analysis of pollutants in various food commodities, in order to improve national economy and ensure more control over food safety. QCAP analysis list includes more than 650 chemical pollutants and more than 17 microbial pollutants.
QCAP is the reference laboratory of the Egyptian Ministry of Agriculture in the field of a number of analyses. It is authorized to issue testing official certification for various commodities of vegetal or biological origins from various sources, whether domestic, export or import.
In 1996, the laboratory has been awarded the official international accreditation certificate by the Finnish Accreditation Service (FINAS) in Europe on basis of ISO 25, EN 45001, updated in 2002 to ISO/IEC 17025:1999 (General requirements for the competence of testing and calibration laboratories). This certification takes quality management to another stage in laboratory efficiency as well as compliance with the system of quality management.
QCAP is considered the first laboratory in Egypt and the Middle East to acquire this type of certification. The laboratory has been re-accredited in 2006 on the new version of ISO 17025: 2005, and again in 2019 on the new version of ISO 17025: 2017.
This last version contains all the requirements needed by testing and calibration laboratories to bring up and meet the requirements of customers and regulating authorities. It also works based on the presence of a sound management system allowing full control of all operations carried out in the laboratory.
The laboratory's certificate of accreditation is recognized by European Union (EU) countries, other countries associated with the Union of European Cooperation for Accreditation (EA), the International Cooperation Organization for Accreditation of Laboratories (ILAC), the International Forum for Accreditation (IAF), countries that have signed agreements of mutual acknowledgement as well as by virtue of multilateral agreements signed by European and international organizations.
The requirements of quality assurance and quality control (QA / QC) have been implemented in this laboratory, effectively and with complete accuracy, for the first time in Egypt. Since then, more than 20 years of experience have been accumulated in various fields of chemical analysis. Moreover, all current laboratory analyses of more than 80 different methods are performed based upon approved testing procedures in compliance with ISO 17025: 2017 offered by Finnish Accreditation Service (FINAS).
In order to monitor incessantly quality, efficiency and validity of all methods of lab analysis, the laboratory participates in working out programs of sample efficiency tests (PT) as well as comparative tests between laboratories.
The laboratory was awarded the certification of testing method of dioxin which requires high technology and special training for analysts working on it. Therefore, the number of laboratories undertaking that type of analyses is limited and the number of accredited laboratories using that method on the international level is also limited. QCAP laboratory has conducted the analysis of more than 600 thousand samples since 1995.
In the Arab Republic of Egypt, the Central Laboratory for analysis of pesticide residues and heavy metals in food is considered to be a pioneer in his field.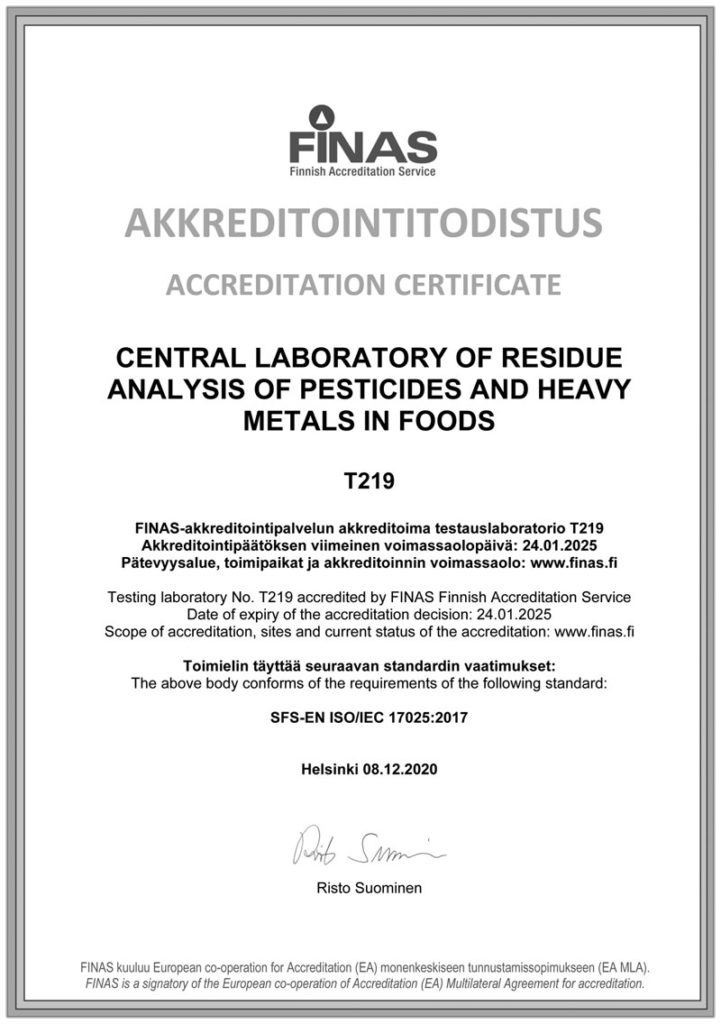 Need More Details?
We are here to assist. Contact us by phone, email or via our social media channels.